We would like to present you our ATLANTIC SUNCRUISER 815 wich can be rented for half/full day boat trips from Dubrovnik. This stylish, innovative and comfortable boat with slender lines and exceptional design is making a name for itself. Its soft shapes and the clever deck layout show the personality and characteristics on the water. A true performance boat under all conditions, steering the Atlantic Sun Cruiser is a true pleasure.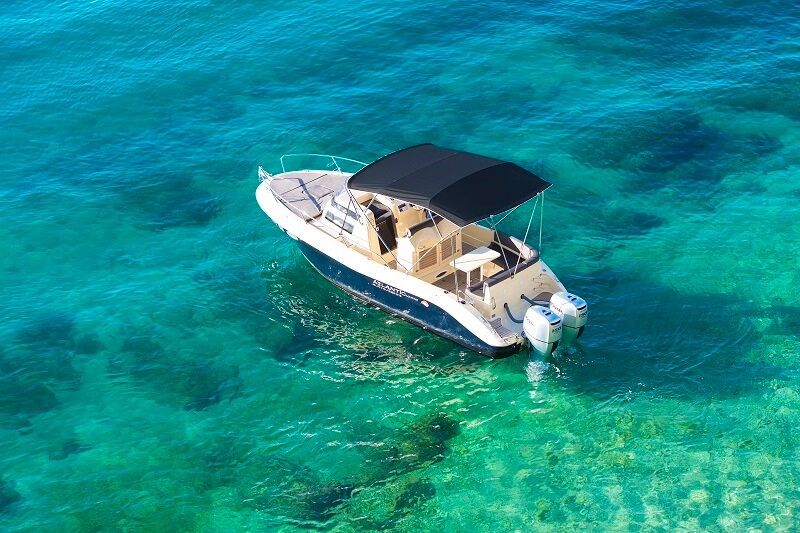 BOAT SPECIFICATIONS
Length: 8,15m
Beam: 2,77m
Engine: 2xBF 150 Hp
Construction Year: 2013.
Capacity: 8 persons
Number of Cabins: 2
Number of Berths: 4
Cruising speed: 24 Knots
Maximum speed: 36 Knots
Additional Equipment: Bimini, Fridge, Cd / Mp3 player, Shower, Toilet, Sundeck
Now, we would like to give you a few ideas what to do and where to go with this boat!
1. The Elaphite Islands boat tour from Dubrovnik
The Elaphite Islands or the Elaphites is a small archipelago consisting of several islands stretching northwest of Dubrovnik, in the Adriatic sea.
By renting a boat in Dubrovnik You get professional skipper and all the things you require for a perfect day at sea.
2. Island of Mljet boat trip from Dubrovnik
Mljet boat tour is perfect oportunity to see this beautiful island which is also one of Croatia's National Parks.
3. Island of Kor?ula boat trip from Dubrovnik
Kor?ula boat tour is perfect oportunity to see the birthplace of famed explorer Marco Polo.
5. Island of Hvar boat trip from Dubrovnik
The island of Hvar is the queen of the Croatian Dalmatian islands. It has been famous since the antique.
Hope to see you soon on one of our Atlantic Suncruiser 815 boats!
Adriatic Explore Team